BSA Today Issue 9 - Out Now!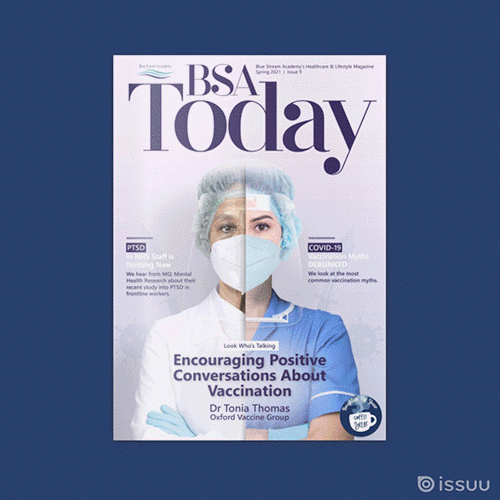 We are pleased to announce that our ninth issue of BSA Today is out now! Visit 'Find Out More' at the top of the page and select the BSA Today Banner to read the full issue.
In this issue, we look at the topics below, alongside much, much, more:
Encouraging Positive Conversations About Vaccination. With the national COVID-19 vaccination programme well underway, Dr Tonia Thomas, Vaccine Knowledge Project Manager at the Oxford COVID Group, discusses how to encourage positive conversations about vaccination.Check out page 15 to find out more!
Post-traumatic Stress in NHS Staff is Nothing New. We hear from MQ: Mental Health Research, about their recent study of post-traumatic stress disorder (PTSD) in frontline workers.See page 20 to find out more.
Coffee Break Conditioning. Join our HR manager Sian as she looks at coffee break exercises to keep you active during the day. See page 27 to read more!
Super Smoothies - Boost Your Immune System! Keep your immune system happy with our 'super smoothie' section, packed with five delicious recipes to boost your immune system and tickle your taste buds! See page 28 to see the full recipes!
Like what you see? Why not join our exclusive subscribers' club at no extra cost to your existing subscription? The subscribers' club gives you: early access to each new issue of BSA Today, exclusive access to our subscribers' club competitions, with great prizes to be won, and a printed copy of every issue delivered directly to your door.
To sign-up for subscribers' club access at no extra cost, get in touch on: bsatoday@bluestreamacademy.com
---